Seva Sandwich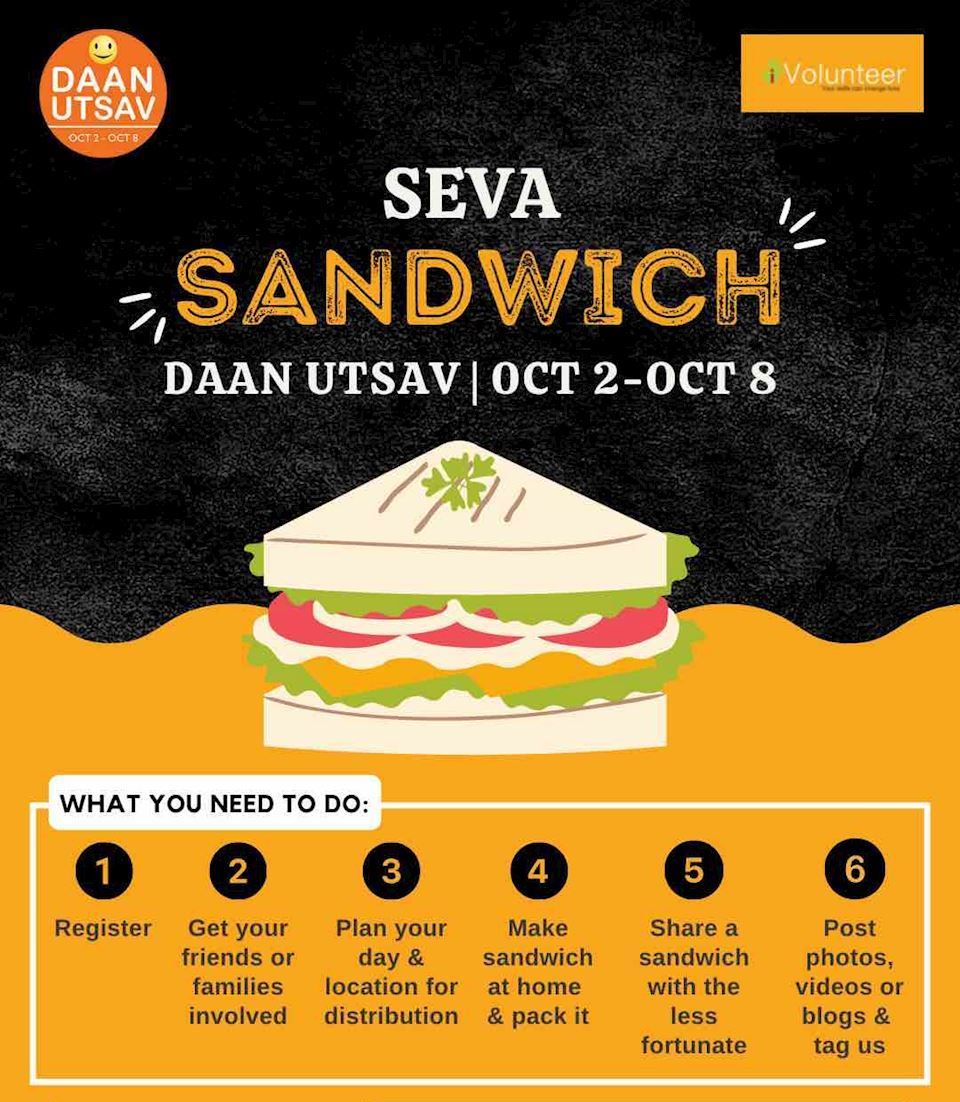 Seva Sandwich: a simple and unique opportunity to connect with and support people in need.
People are helpful by nature but are often unaware of how to help or shy of stepping out and speaking up. Indian traditions, of course, tell us not to let our left hand know what our right hand is doing - teaching us not to boast about charity, but as society is evolving, isn't it time that we motivate others to join in by sharing our acts of giving.
Seva Sandwich is a simple campaign run by iVolunteer during Daan Utsav to celebrate the joy of giving every year. It brings together a group, as small as 5 or as large as possible, for the simplest act of giving - preparing and sharing food. Whether its friends in an apartment complex, school, college, office, taxi-stand ... just about anywhere - you can always experience the great joy of giving!
Campaign Objectives
To provide a platform to come together as "one community" and get connected to people in need while sharing a sandwich.

To build a culture of "confident giving" by providing a common platform for people to post their feedback and experience- thus motivating each other.
How does it work?
Individuals/Groups from colleges, companies, RWAs, clubs, schools, etc register for the campaign to book their event dates.

Project/Regional Coordinators

contact these individuals/groups to discuss the event and mails them relevant material and information.

If it is an individual-

The Project/Regional Coordinator

helps them get connected to a group that is doing the event in/near their location.

If it is a group then

The Project/Regional Coordinator

discusses with them and guides them on their event flow.

The groups identify a location themselves to distribute the Sandwiches.

If Groups do not have a location,

The Project/Regional Coordinator

connects the group to the nearby campaign NGO or possible distribution location.

On the Event day click selfies, pictures, and videos and post the experience on your social media tagging iVolunteer's Facebook and Instagram handles.

iVolunteer collates all information and brings out a snapshot of how we all conducted Seva Sandwich together!
Lets spread the goodness - join in to host Seva Sandwich and invite your friends and family to celebrate Daan Utsav!