Asia Pacific ProBono Summit 2020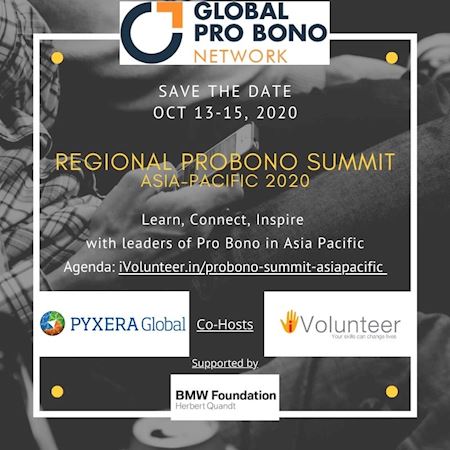 Asia Pacific Pro Bono Summit brings together leaders of the pro bono movement to meet, discuss and share best practices. Held under the aegis of Global Pro Bono Network, it will synchronise with the Global Pro Bono Summit, Paris.
Participants will include a diverse range, from startups to mature organisations, involving GPBN members, companies with pro bono programs, foundations that are supporting pro bono, and various other specialists in the field. For 2020, the virtual Summit will also engage NGO professionals, and pro bono enthusiasts. The Summit is a closed group event with inviting only relevant professionals (150-200) from the field for focused discussion and sharing.

Pro bono is a movement to create social catalysts among corporate employees and working professionals who undertake skills-based assignments while remaining committed to their careers. Typically, pro bono efforts bring about synthesis between a corporation's CSR activities and its Learning & Development programs and are directed towards capacity building of NGOs, non-profits, and social enterprises. The summit will field speakers from corporations, social service organisations and pro bono participants and will bring together perspectives from the social and corporate sectors on how Pro Bono can be a force to create significant social capital.
Bookmark this page for most updated agenda and annuncements. Registration open soon. Contact Us for participation and enquiries
Agenda 2020: Asia Pacific Pro Bono Summit
Tues, Oct 13th, 2020: Setting the context for Pro Bono in the aftermath of COVID-19

From

To

Topic/Activity

Speaker

10:00

10:15

Welcome Address

Tahira Thekaekara (India Country Director, PYXERA Global), Shalabh Sahai (Co-founder, iVolunteer)

10:15

10:30

Key Note:

How Pro Bono can influence the realization of triple bottom line benefits post COVID-19

Amit Chandra, CEO Bain Capital Private Equity India and Co-Founder, A.T.E. Foundation

10:30

10:45

Key Note:

Building Empathy in the Corporate Sector

Vineet Nayar, Former CEO of HCL Technologies and Founder Cahirman & CEO, Sampark Foundation

10:45

12:00

Panel Discussion

The imperative of collaboration and partnerships

Jayanti Shukla (CEO United Way Mumbai) + Ramesh Ramadurai (Country Head 3M India) + Robin Zhai Yang, (Founder, Beijing Pro Bono Foundation) + Arun Pandey (Regional Citizenship Program Director, John Deere)

Moderator: Shalabh Sahai (Co-Founder, iVolunteer)

12:00

12:15

Break

12:15

13:15

Fireside Chat

How can NGOs engage with corporates to deliver commonly agreed social good?

Nagma Mullah, COO, Edelgive Foundation in conversation with Puja Marwaha, CEO CRY

13:15

13:30

Wrap-up and close of Day-1

Tahira Thekaekara/Shalabh Sahai
Wed, Oct 14th, 2020: Making Pro Bono effective and pervasive

From

To

Topic/Activity

Speaker

13:30

13:45

Recap of Day 1 and agenda for the day

Tahira Thekaekara/Shalabh Sahai

13:45

14:305

Pecha Kucha presentations

NGOs to make short presentations pecha kucha style

1. AERF India

2. Jingmen Volunteers Association, Hubei, China

3. Dharma Bharti, India

4. Campus Impact, Singapore - Elysa Chen

14:305

14:45

Break

14:45

16:00

Panel Discussion

Leveraging technology as part of the new normal

Maneesha Chadha (India CSR Head JP Morgan)

Prem Yadav (Co-founder & CEO Pratham Infotech)

Krie Lopez (Founder & CEO, Messy Bessy -Social enterprise- Philippines)

Moderator: Annie Yan Peng (Co-Founder Beijing Pro Bono Foundation)

16:00

16:15

Break

16:15

17:15

Master Class Breakout Sessions:

# 1. Insulating from Murphy's Law-How to make Pro Bono work

#1: Led by Aarti Madhusudan (Principal Consultant, iVolunteer), supported by Shakti Saran (Senior Fellow, PYXERA Global)

# 2. Learning from different models and making them work for you

#2: Led by Shilpa Ahluwalia (Director Global Pro Bono - India, PYXERA Global), supported by Shalabh Sahai (Co-Founder, iVolunteer)

17:15

17:30

Wrap-up and close Day 2

Tahira Thekaekara/Shalabh Sahai
Thurs, Oct 15th, 2020: How individuals can participate

From

To

Topic/Activity

Speaker

10:00

10:15

Recap of Day 2 and agenda for the day

Tahira Thekaekara/Shalabh Sahai

10:15

11:15

Fireside Chat

My life changed because of Pro Bono

Harish Devarajan, Board Member Bank of Baroda,

Gopi Govindan, HR Head of CLP Power India Ltd.

11:15

15:30

Break

15:30

16:30

Panel Discussion

How can intermediaries help Pro Bono volunteers

Ikuma Saga, Director - Service Grants, Japan

Shalabh, Co-Founder - iVolunteer, India

Peter Yang, Founder & CEO - Empact, Singapore

Shilpa Ahluwalia (Director Global Pro Bono - India, PYXERA Global)

16:30

17:00

Key Note Speaker

The future of Pro Bono

Hemang Desai, Global Program Director, Social Sabbatical Portfolio, and Corporate Social Responsibility (CSR), SAP

17:00

17:15

Conference wrap-up

Tahira Thekaekara/Shalabh Sahai
Volunteer Opportunity Search