Whiteboard
Announcement: Free Volunteer Management System (VMS) account for partner NGOs to recruit new volunteers and manage existing ones. Partner and request for a demo NOW!
Whiteboard supports NGOs with strategic advisory through a panel of senior industry experts in core organization management functions like planning & organizing, human resources, finance, compliance & governance, and marketing and communication. A Whiteboard is a group of professionals having diverse skills and expertise, and who are passionate about service. It aims to be an engaged and dynamic volunteering support system where NGOs have access to genuine advice to support them achieve their mission more effectively.
Whiteboards across India
Presently, there are 2 Whiteboards running successfully in Mumbai and Bengaluru working with multiple NGOs from across India (including Oscar Foundation, Apnalaya, eVidyaloka and, Yuva Parivartan).
Whiteboard Members – Who are they?
A panel of advisors with well documented and proven expertise either by qualification or work experience of no less than ten years in their domain. From Chartered Accountants to Venture Capitalists, Human Resource & Sustainability Experts, Marketing & Technology Gurus, Communication Experts, and Business Managers, comprise an eclectic Whiteboard in every city. These advisors offer pro bono support to NGOs based upon their skills and depth of experience.
A Unique Volunteering Opportunity
Whiteboard presents a unique opportunity to its members towards self-realization and inspiration of life goals beyond one's career. To be a whiteboard member means to see one's academic and corporate experience translate into a passion for the betterment of the society we live in. Whiteboard members are highly driven and compassionate towards social welfare and this commitment adds to their emotional intelligence. Whiteboard is indeed a very elevated level of volunteering.
Corporate Whiteboard – Developing an Empathic Leader within an Organisation
The iVolunteer Whiteboard for a corporate involves a group of mid-senior professionals within a corporate house, coming together as a Board to work for a period of one year with a few NGOs in their city. A corporate Whiteboard is similar to an independent whiteboard, just that the members belong to the same corporate entity and the volunteering program gets inducted as a leadership development initiative within the organization, under the aegis of Human Resource Development. All coordination and monitoring are managed by iVolunteer.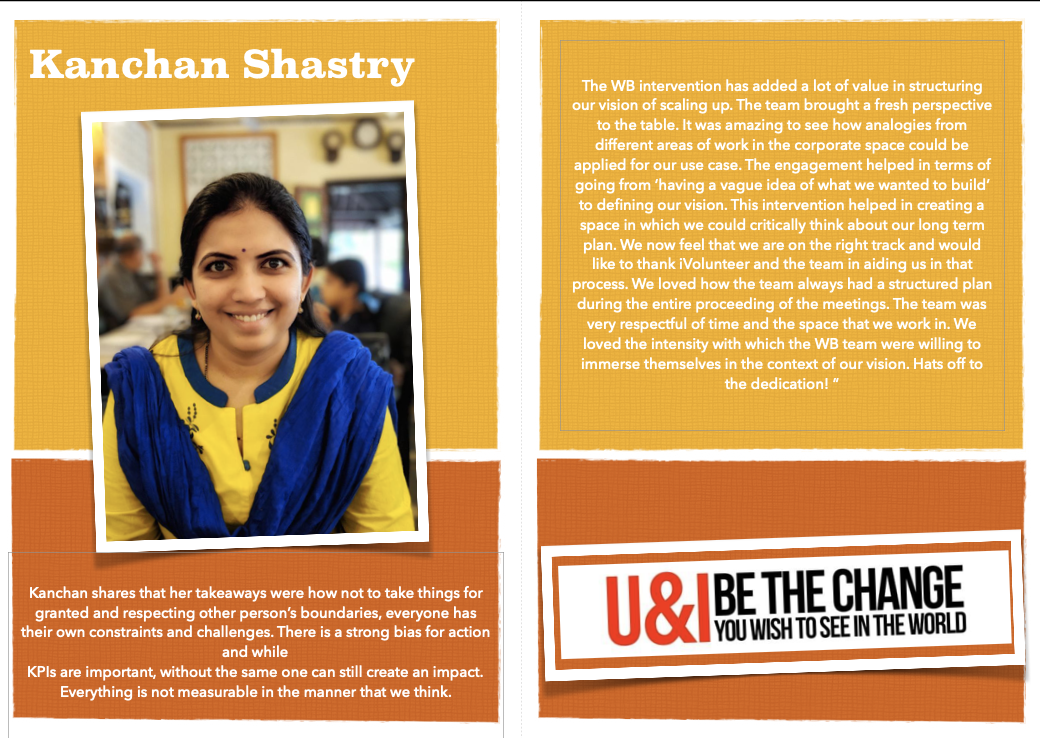 Who Should Reach Out to Us?
NGOs and Social Enterprises that need to improve their systems and processes, and need managerial, creative, or even tactical guidance to run the organization more effectively, should contact us.
Interested? Connect with us on whiteboard@iVolunteer.in