What If You Could do One Thing on One Day to Change the World?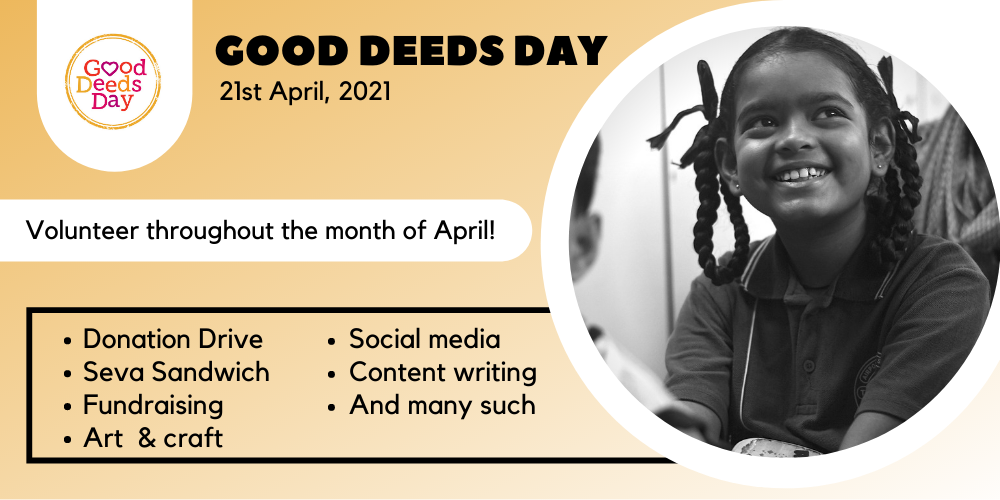 Good Deeds Day is a global movement that unites 4 million people from over 108 countries to do good deeds for the benefit of others and the planet. It is an ideal way to engage, grow or showcase corporate social responsibility platforms and efforts, and align with positive change.
iVolunteer has been participating in Good Deeds Day since 2017 by organising various volunteer projects engaging thousands of volunteers and partnering with several non-profits and other organisations to celebrate simple acts of volunteering and service to humanity.
2021: for Good Deeds Day on 21st April 2021 and throughout the month of April, we are collaborating with many regional organisations and leaders to bring together all GDD India activities on this page. Do check back for the latest updates and projects.
Various projects on tactile gameboards, beach clean-ups, creative arts and crafts classes, no plastic campaigns, distribution drives, awareness sessions, Seva Sandwich, Stem sessions, and workshops have been designed for the volunteers to choose from. One can simply click and participate in one or you can create your very own project
If you wish to participate or sponsor any projects then write to saleem@iVolunteer.in to know more. You can know more about Good Deeds Day, useful resources, ideas, and tips by clicking here
Please wait...
Volunteer Opportunity Search