Age Minimum (with Adult): 14+, Minimum Age:18+
Mission Million Books initiative - Help Sort Books
Changemakers! We have an exciting, fun, easy-to-do opportunity for you.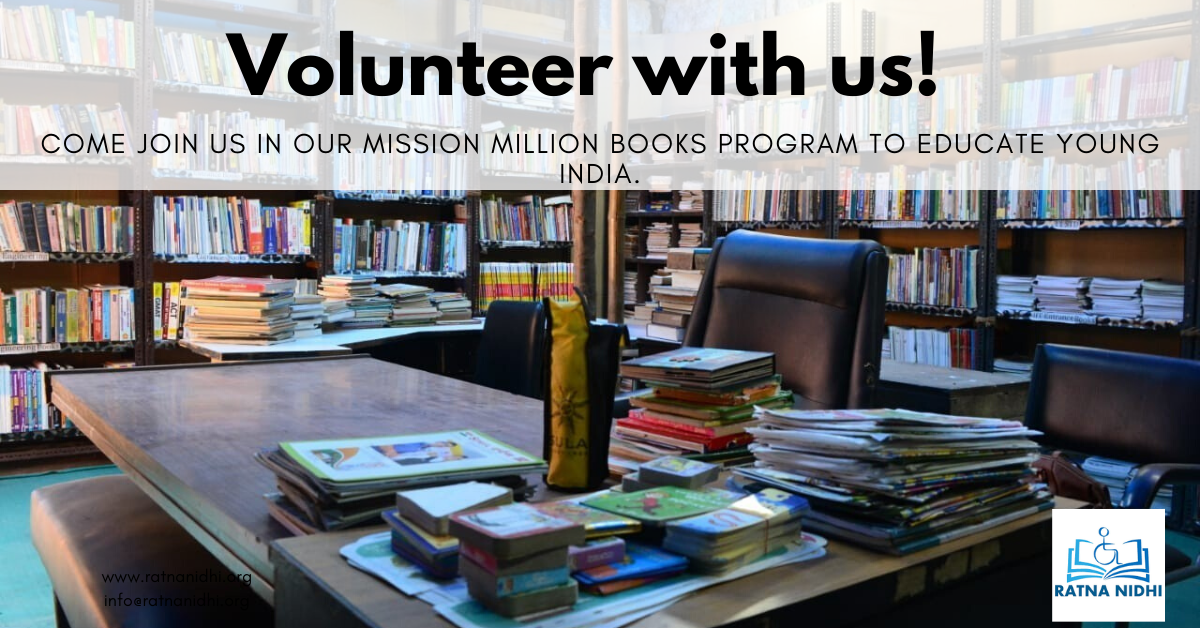 If this sounds like something you would like to do, then Ratna Nidhi is looking for you!
We have an inflow of pre-used books at our office. We need volunteers to sort books at our centre and arrange them into different categories on the basis of genres/subjects, etc. The books then need to be added to a mini library created at our centre.
An in-depth orientation of the sorting of books will be provided at the centre.

Time commitment: 4 to 8 hours per week (can start immediately)
So come and volunteer with Ratna Nidhi Charitable Trust and together let us spread the joy of reading!

About the NGO:
Ratna Nidhi Charitable Trust is committed to the welfare of people from the most underprivileged strata of society without distinction of caste, creed, or colour. Its emphasis is on assisting children and youth who are citizens of tomorrow and the disabled who need support to help them join mainstream society. As a part of the Mission Million Books initiative, Ratna Nidhi has distributed over 8 lakh books to more than 3500 underprivileged schools and colleges for free. Their work is very simple but has a lasting effect on the children they distribute these books to.
Please wait...
Apply to volunteer for this opportunity
Log in or Register
In order to register for this opportunity you must log in to an existing account or register to create a new account.
Signup with team
This link allows you to participate in this opportunity with a team. When you click on the link you will have the option to:
Choose an existing team you're already a member or captain of, or
Create a new team to sign up.
Signup Questions
Please respond to the following questions in order to signup for this opportunity:
Please wait...
E-mail
Volunteer Opportunity Search