Relief for migrant labourer and families suffering from Corona & nationwide lockdown
Cash Relief for migrant labourers and urban poor was provided during the 1st Corona wave and the national lockdown. The campaign ended as the urgency and the scale reduced. Our volunteers, donors, and partners made this happen - our sincere thanks to them all!!
We are now planning the 2nd stage of relief for the affected. To support with donations or food, ration or medical supplies in the ongoing Corona wave, please do contact us on admin@iVolunteer.in .
Update: As of 27th April 2020 - INR 44,00,000 has reached 4136 individuals in need of cash and a separate 1700 families for buying essentials.
Day 21 Video Update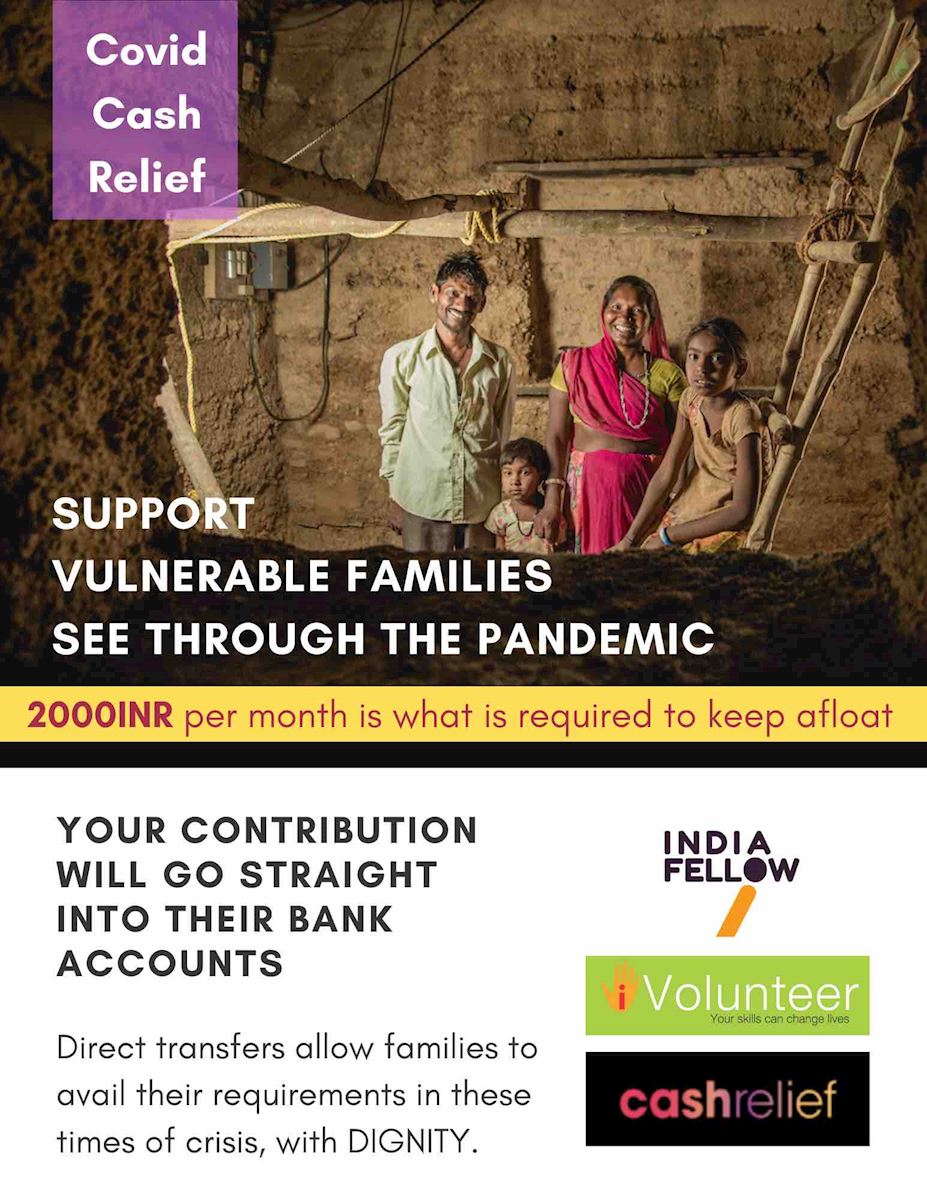 If you're reading this, it's safe to assume that you have a decent internet connection, basic awareness of COVID-19 and a smart device. During the ongoing lockdown due to COVID-19 outbreak, you are able to access the basic necessities, albeit with some struggle. Yet there are people, not too far away, who are struggling for survival and shelter, including:
Migrant labourers stranded on the streets, waiting to reach home
Families in remote villages dependent on daily wages
Individuals and families in urban slums who lost their incomes
We do not know of this through media or hearsay. We know because our India Fellows work with several credible organizations. Some are at the frontline, handling labour helpline through Aajeevika Bureau, some others in remotest locations of the country, like Kalahandi in Odisha with organizations like Swasthya Swaraj – where if the virus reaches, there are no ventilators for several hundred miles.
Each life is precious. We are striving to cover this last mile and support through direct cash benefit of:
Rs. 1,000 per migrant labourer so that he/she can meet his/her immediate needs.
Rs. 5000 per family (urban slums & remote rural areas) for monthly expenses
Join us. We cannot afford to not help any more. So join us in saving the millions on the brink of getting lost in this crisis. Your contribution, of any amount, will be transferred directly to the needy's bank accounts so that they can access what they lack, with dignity. For those without access to a bank account, we are supporting through credible local community organisations. This is a long haul, so donate generously - consider every restaurant meal, parlour visit and movie show that you would save on during lockdown. (We recommend Ghar ki rasoi, gharelu nuskha and board games at home as replacements).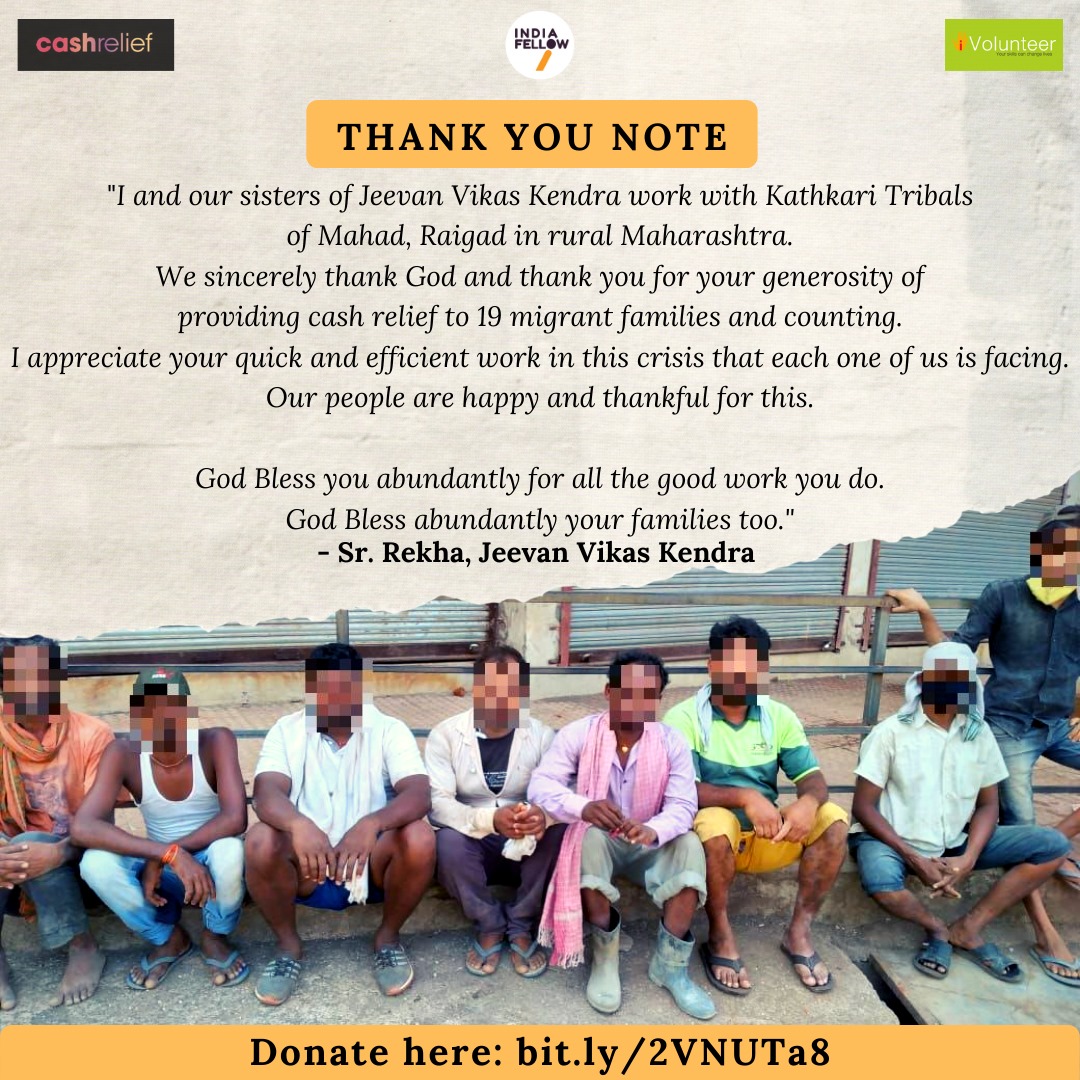 Our Partners?
Presently we partner with the following and are adding more credible organisations in other remote regions:
Aajevika Bureau has set up a labour hotline through which they get the information of migrant labourers affected due to the lockdown
Shramik Bharati has been working in UP with daily wagers trying to get them access to food
How to Donate? Donations are tax-exempt under Section 80G
Donate now through our crowdfunding campaign on Ketto OR use Bank Transfer instructions as below.
Donors on the crowdfunding campaign above automatically receive tax exemption certificates. Donors making bank or UPI transfers as below, please email a screenshot of your transaction to admin@iVolunteer.in for a tax exemption certificate. Let your network know of your support, and inspire them to join as well.
INDIAN DONORS

INTERNATIONAL DONORS

UPI Transfer: iVolunteer@icici

Account Name: MITRA TECHNOLOGY FOUNDATION
Bank Name: ICICI Bank
Savings Account Number: 630001020813
IFSC: East Of Kailash (ICIC0000719)

(mention your email ID in remarks)

Account Name: MITRA TECHNOLOGY FOUNDATION
Account No. : 39938714489
IFSC Code: SBIN0000691
SWIFT CODE: SBININBB104
Address: FCRA Cell, 4th Floor, State Bank Of India, New Delhi Main Branch, 11 Sansad Marg, New Delhi - 110001 India.

Email donation details to admin@iVolunteer.in including a copy of your passport as required by Indian law.
iVolunteer and India Fellow are both parts of MITRA Technology Foundation. Our Founders have also been directly involved in one of India's pioneering programme on Direct Cash Benefit - Cash Relief
Please wait...
GoVirtual
Please wait...
Volunteering for Covid Relief