iVolunteer Overseas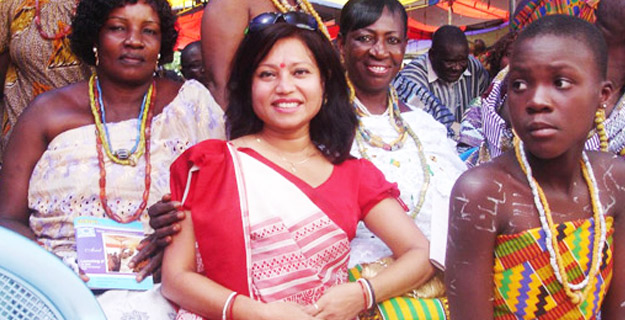 iVolunteer Overseas (iVO) gives qualified and experienced professionals from India the unique opportunity to work in countries that have a great need for their skills. In partnership with VSO, professionals get the opportunity to work on a wide range of niche projects in more than 30 developing countries in Africa and Asia.
Volunteers work with local organisations that serve poor people. They help give children a future through education. They improve the standards of care in hospitals. They train poor people in the skills they need to earn a living. Volunteers do whatever needs to be done to break down the barriers that trap people in poverty.
In the last 10 years about 250 plus volunteers from India have gone through this program and have come back with enriched lives and careers. Volunteers also often tell us that this has been one of the most powerful and rewarding experiences of their lives.
WHY VOLUNTEER OVERSEAS
Around the world, your skills can make a difference. The communities we work in need experienced professionals like you. You will live and work abroad alongside local professionals, help improve the quality of life for people who need it most. The impact of your work will be far reaching, leaving a positive legacy that remains long after you have returned home.
But that is not the whole story. When you volunteer in a role that's right for you, everybody comes out ahead. It gives you a chance to build on skills you have and learn new ones. A chance to meet new people and through them expand your network, opening up opportunities you might not have otherwise. You learn about yourself and your potential to grow and develop. Volunteers also often tell us that their time with us has been one of the most powerful and rewarding experiences of their lives.
WHO CAN VOLUNTEER
We are looking for skilled people from many different backgrounds, including teaching and education, health, livelihoods, community and social development, management, business and IT, engineering and technical, communications, fundraising & more.
To volunteer overseas, you'll need both professional experience and qualifications. As a general rule, the more experience you have, the better.
Professional skills and experience
Requirements do vary, but you will typically need:
between 3-5 years's experience
an official qualification, such as a degree, to help secure your work permit
to pass a medical check and a criminal record check
requirements do vary, but generally to be aged between 28 and 68
to be ready to start within the next 12 months
to be available for a placement that will last from 6 to 24 months
The basic requirements may vary depending on the skill area, role length and the requests we receive from our overseas partners. Please see individual job descriptions for full details.
Other skills
In addition to being a skilled practitioner in your own area of expertise, your placement will usually require you to share your knowledge with others. This means training and advising colleagues in order to provide a self-sustaining legacy that lasts long after your placement is over.
Don't worry if you have little experience in training others, you will just need some confidence and willingness to 'give it a go'.
Returned VSO volunteers also have told us that useful personal skills and qualities include adaptability, problem-solving and sensitivity to the needs of others.
You'll also need to:
be willing to learn from others as well as train, and participate in a two-way exchange of ideas and expertise
be willing to work for a modest living allowance and to live in conditions similar to those of local colleagues
be prepared to invest time in self-briefing and training before going to your placement
be willing to learn the basics of the local language of where you'll be working
share your experience and promote VSO when you return.
SUPPORTING YOU
In terms of financial support, iVolunteer Overseas will typically cover the following costs:
criminal record check
medical insurance and required immunisations and anti-malarials
your training, including accommodation and food whilst on residential training weekends
one return flight to get you to, and home from, your placement
accommodation whilst in your placement
an allowance to cover your basic living expenses whilst overseas.
VOLUNTEER EXPERIENCES
Find out what it's like to be a VSO volunteer: Read volunteers' life-changing stories
For more details on the program or to apply, visit www.ivoindia.org