Mission
To foster an inclusive society, which celebrates diversity and enables the spirit of collective progress by empowering persons with disabilities.
About DNA
Disability NGOs Alliance (DNA) is a response to the urgent need for a collective platform to represent the disability sector NGOs across Karnataka, in order to increase the efficacy at the individual NGO level, as well as, strengthen the impact of the overall sector.
DNA is a first-of-its-kind initiative to collectively represent the disability sector organisations in Karnataka. From improving the intervention capacity of individual NGOs to strengthening their overall impact at the policy making level, DNA represents the unified voice of all stakeholders advocating the empowerment of PwDs.
With a growing membership base of NGOs, we actively support their progress through capacity building, collaboration and strategic services. By bringing them together, we also help build a cohesive momentum to accelerate the overall advancement of the sector. Led by a stalwart team of disability sector experts, DNA is well on its way to realising an inclusive Karnataka and India.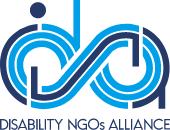 Bangalore, KARNATAKA, 560095