Mission
To provide children and young adults with Autism the opportunities and the means to create better lives for themselves and their families.
About
At Akshadhaa we believe that every Human Being has a right to contribute and make a positive influence to its surroundings. This is also applicable for all the children. And so at Akshadhaa we work with special children and young adults in enabling them to address their own primary needs, to be cognizant of their surroundings and then depending on their capability make them acquire a set of skills which will enable them to live a life of dignified contentment.
Akshadhaa Foundation is working to address the needs of the children with Developmental delays, Speech & Language difficulty and Autism to supplement them in the targeted areas which make learning effective.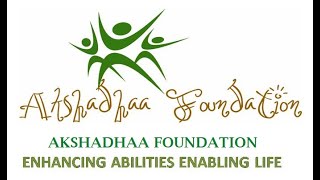 Bangalore, KARNATAKA, 560043