Age Minimum (with Adult): 18+, Minimum Age:18+, Skills: Web Design, Information Technology
Opportunity for developers to work on open-source COVID relief mobile & web app
Kaivalya Education Foundation is a leading social impact organization that works as a catalyst in the transformation of the public education system in India – by fostering competent and passionate leaders, redesigning organizational processes and structures, adapting technology, and influencing policies. Established in 2008, we now work in 14 states across India and engage with over 39,000 education officials. Our work directly or indirectly influences 1.5 million teachers and impacts 87 million children.
SDDNN Abhiyaan - Realizing the severe impact of COVID-19 on the vulnerable population of senior citizens, we launched a campaign named "Surakshit Dada-Dadi Nana-Nani Abhiyan" in collaboration with NITI Aayog. The started off with the goal of reaching the 2.9 million senior citizens in 25 Aspirational Districts with the help of 500 staff and 25,000+ community volunteers. The campaign is now expanding rapidly to all Aspirational Districts. Our community volunteers, also called 'Apne Saathi', work on interventions across three pillars – prevention, access, and detection – to support Sr. Citizens.
Opportunity - We developed an Android mobile application using a model-view-ViewModel framework and web application for Apne Saathi. We tested it in a few districts and found very impressive changes. We are now looking to expand it to scale across the entire program and eventually to benefit over 13 million senior citizens across 112 aspirational districts. We are seeking experienced software developers with one or more skills – mobile application development (using Kotlin), backend, and frontend. We intend to keep this code as open source in GitHub and use it for our several future programs.
We do not have an in-house software development team. While our product owner and staff will share the user requirements and guide on project priorities, we expect the volunteers to work fairly independently and rapidly. We anticipate that it is about 3 months of effort.
Video link for application demo: https://www.youtube.com/playlist?list=PLKMyifSHS2tE5tTtt_N1SPjovQf8Pk8hF
Note: The volunteers can work from any location and must have their own laptop, internet access, and an Android phone to develop and test the application.
The technology stack we use is as follows: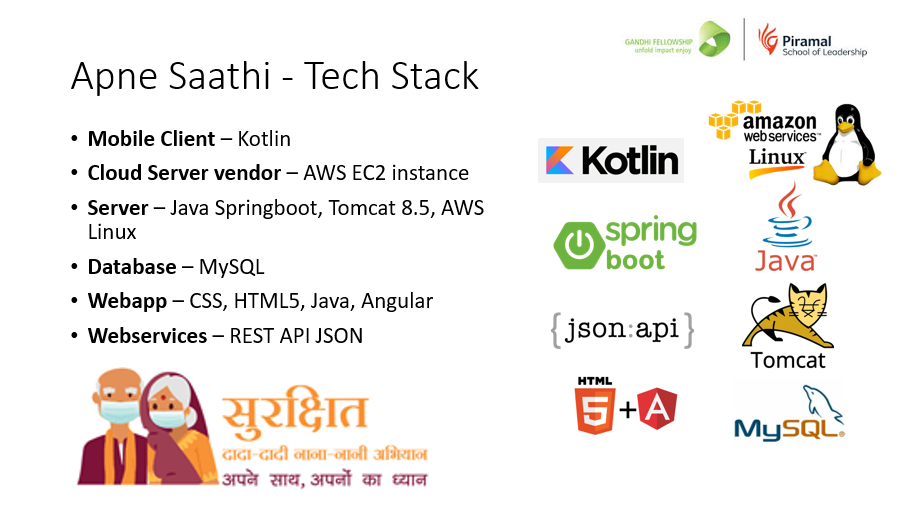 Please wait...
Log in or Register
In order to register for this opportunity you must log in to an existing account or register to create a new account.
Signup with team
This link allows you to participate in this opportunity with a team. When you click on the link you will have the option to:
Choose an existing team you're already a member or captain of, or
Create a new team to sign up.
Signup Questions
Please respond to the following questions in order to signup for this opportunity:
Please wait...
E-mail
Volunteer Opportunity Search